If you work in the pharmaceutical, life sciences, or healthcare industry and want to succeed with your marketing, the only way to do that is to build personal relationships with each customer. With content experience platforms like eWizard, creating personalized customer experience at a large scale is no longer a puzzle that is hard to solve but an exciting journey full of new insights.
At Viseven, we realize that the best way to make it easier for the companies and agencies that opted for eWizard to build personalized experiences for their customers is to improve the user experience within the platform.
Our team continuously works on improvements that help different professionals connect and do their jobs more efficiently, considering the latest trends and practices. In this article, we're excited to share the results of our work throughout the first half of 2023.
Planner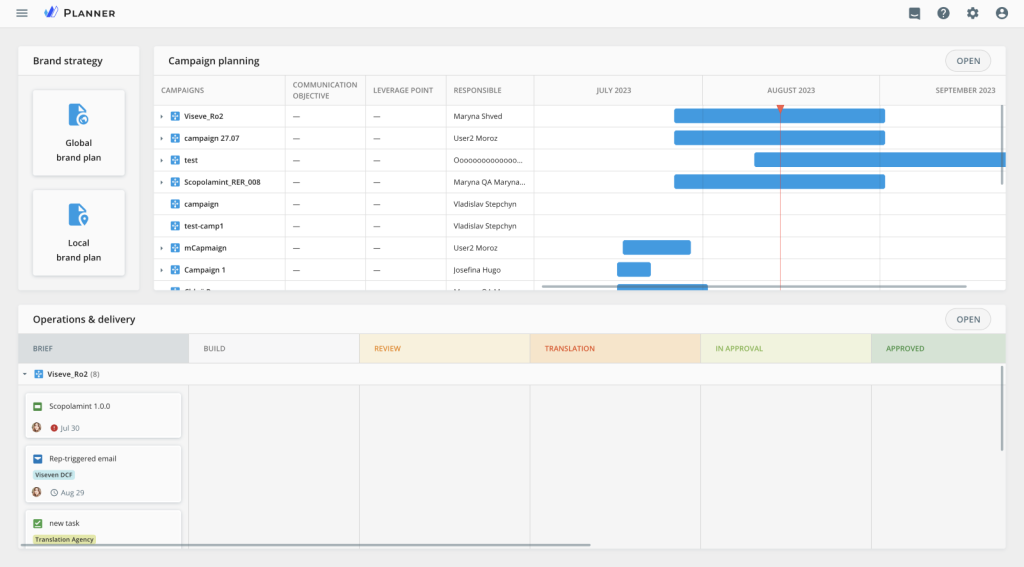 eWizard Planner is a single entry point for marketers, brand managers, and multichannel excellence leads who work in a multivendor environment to plan, coordinate, and supervise marketing campaigns based on a few powerful widgets.
The Brand Strategy Widget

With the Brand Strategy widget, users can create global brand plans to coordinate marketing strategies and goals across different geographies and make local brand plans to organize the same activities for audiences in respective countries.
The Journey Planning Widget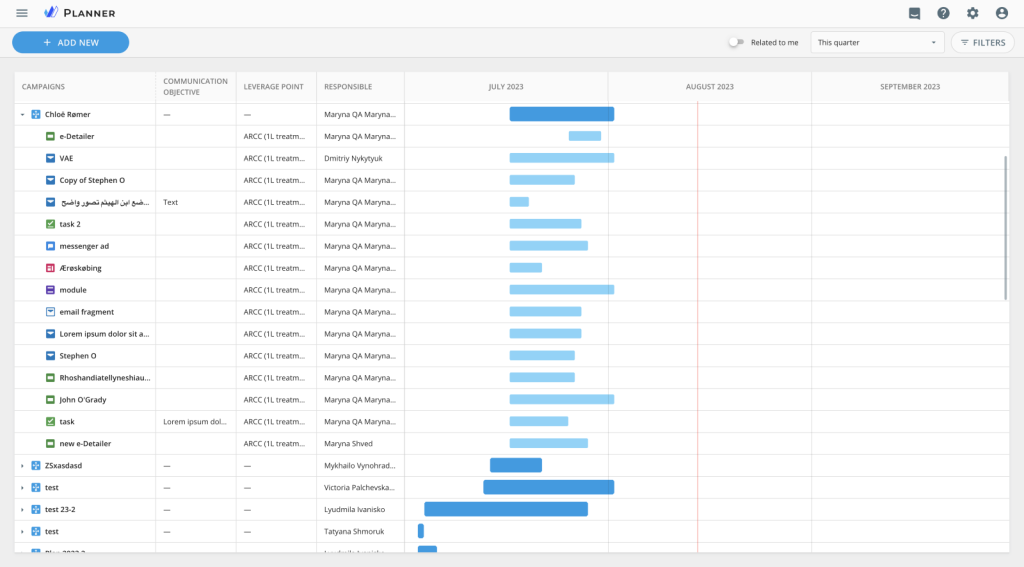 With the Journey Planning widget, users can create roadmaps for marketing campaigns, fill the roadmaps with content, estimate campaign expenditures, track time spent on the activities, and view the progress of objectives.
The Operations & Delivery Widget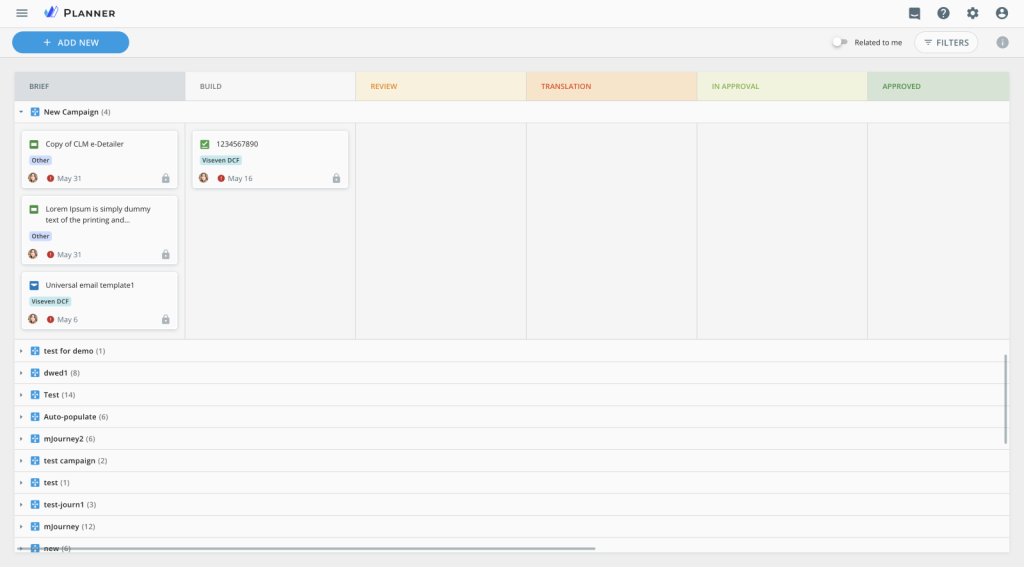 With the Operations & Delivery widget, users can plan, arrange, and manage content for marketing campaigns at different production stages.
Landing Page Deployment & Semantic Markup for SEO
Now, companies and agencies that create landing pages with eWizard can also use the content experience platform to get them "live," thanks to the Deployment feature in eWizard Library. To deploy landing pages from Library, users can choose default domains from eWizard or add custom domains from their hosting provider.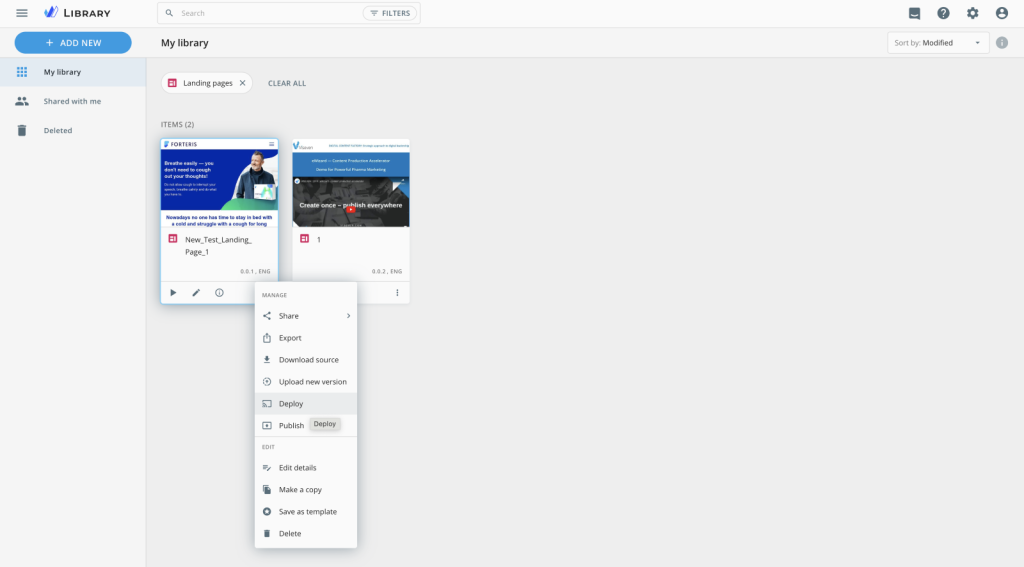 Additionally, all landing pages created in eWizard now have a clear coding structure thanks to semantic markup that improves search engine optimization (SEO) and increases website rankings on search engine results pages (SERPs).
Business Admin
eWizard Business Admin is a service that allows users to manage accounts and permissions for all stakeholders participating in the workflow. Business Admin consists of four sections: Users, Groups, Roles, and Localization.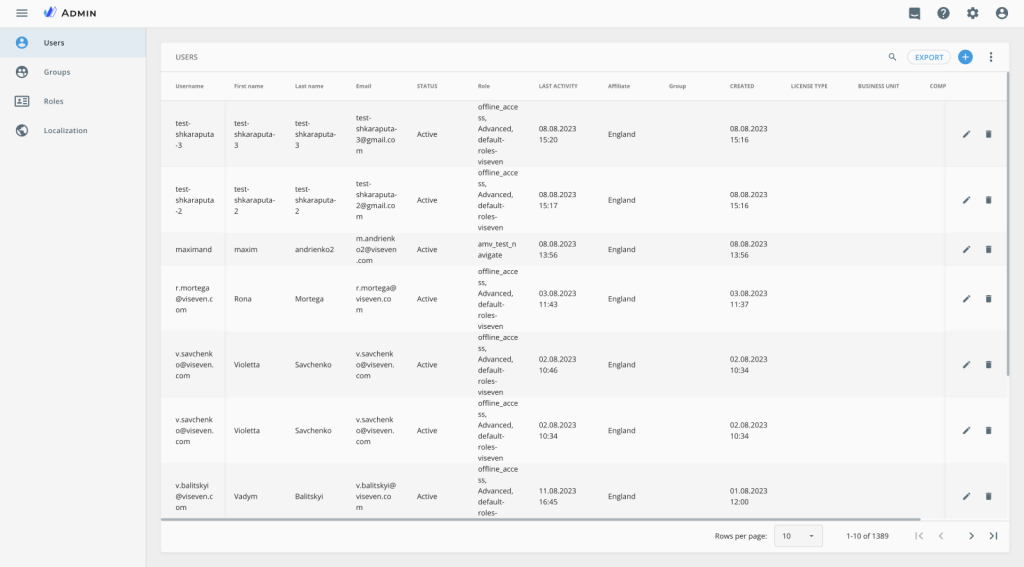 In the Users section, organizations can create, edit, delete eWizard user accounts, and export the list of users as a CSV file. In the Groups section, organizations can arrange users into groups and manage them according to their needs. The Roles section highlights the list of roles for eWizard users within an organization. The Localization section allows multinational organizations to change the eWizard interface into the languages of their teams based in different countries.
Third-Party Software Integration
Organizations that use Contentful and eWizard for content production and marketing can do it more efficiently by synchronizing the data between the two platforms. Additionally, eWizard now supports the Veeva 22R3 standard, allowing organizations to handle texts as reusable text assets with their metadata and lifecycle within Veeva Vault.
Self-Service Area
The self-service area of eWizard experienced some general improvements:
New interface for eWizard Publisher
New container components – Media and Form Container
New support blocks in container components – Pop-Ups and Tab Group
The validation of URL parameters
A capability to check item versions for compliance when publishing as interactive
Along with the enhancements above, our team added new features and tools to make content production in eWizard easier and more efficient.
Template Builder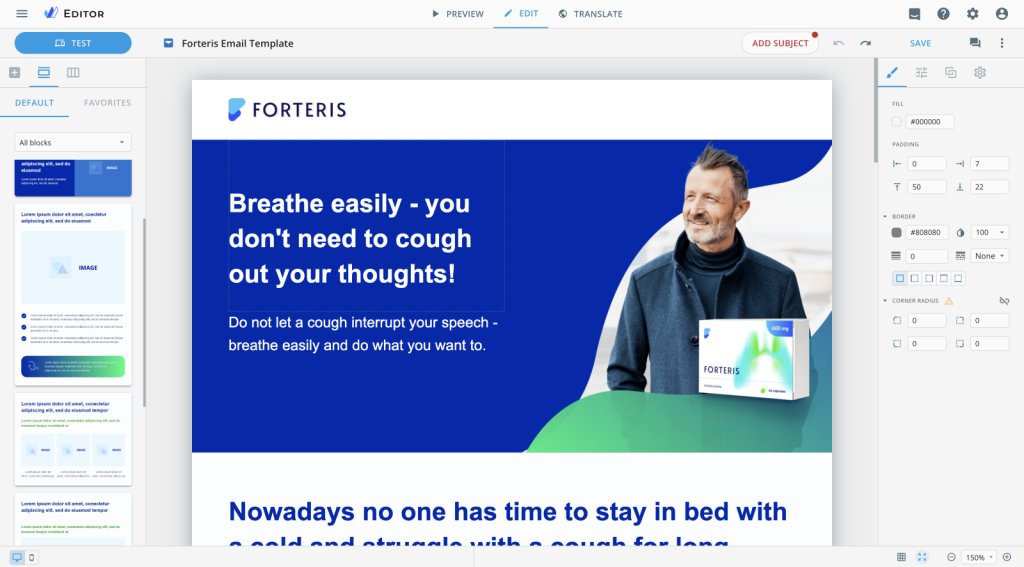 eWizard Template Builder allows organizations to create templates using existing content in Library. When building a template, users can create custom blocks from scratch or update available blocks from the sidebar. Within a block, it's possible to customize content and block width, as well as theme and background colors.
Mobile View Editing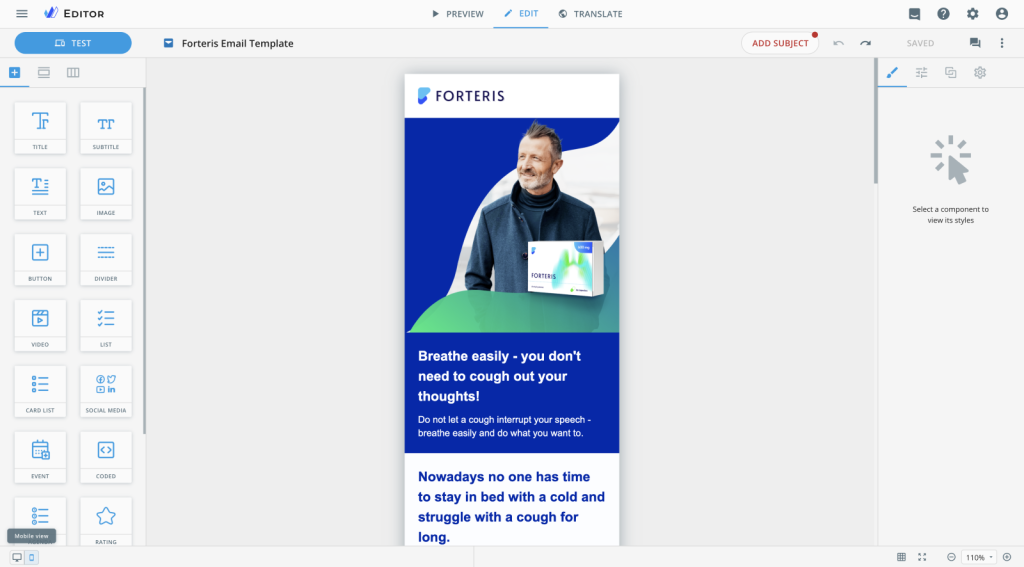 Within eWizard Editor, there's an opportunity to switch between desktop and mobile views. It allows users to edit content for mobile devices and preview it before publishing separately from the content for desktop computers.
Auto Translation & XLIFF File Localization
Auto Translation is a helpful feature for organizations that produce content for markets in multiple geographies. After users choose a target language in the Translate section of eWizard Editor, the platform automatically translates text from the original language.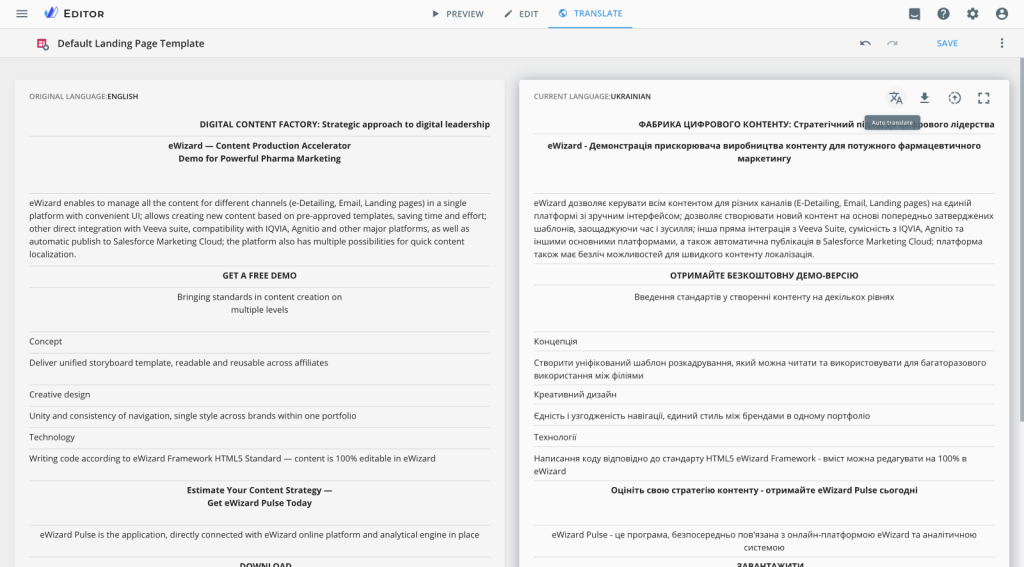 Organizations can also use eWizard to optimize localization of large texts for multiple markets by downloading texts as XLIFF or XLSX files, translating them manually, and uploading them back to the platform. After that, the platform automatically replaces original texts with the translated content and puts it into appropriate placeholders.
Email Pre-Header
Email Pre-Header is a feature that allows users to add subject and teaser lines to emails, email briefs, and email fragments in eWizard Editor.

Users can preview the added subject and teaser in email clients when sending emails, in the item details after publication to Veeva Vault or Salesforce Marketing Cloud, and in the PDF material for medical, legal, and regulatory (MLR) approval. The platform automatically fills the corresponding fields when a user publishes an email to the distribution system.
Modular Approach
The eWizard team made a few minor changes in the modular content approach, significantly improving the platform's workflow: the Minor Updates status in PDF files and Module Highlight in the Preview mode.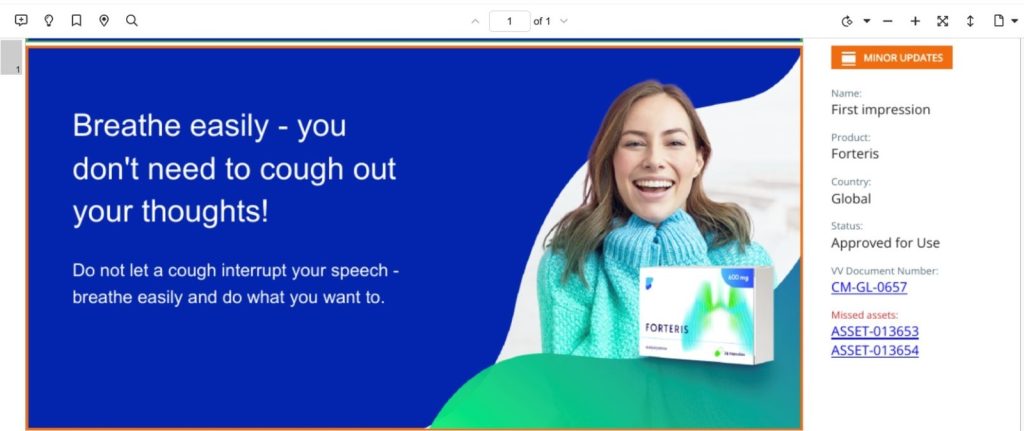 The Minor Updates status in PDF files helps MLR reviewers by providing them insights about changes made by content publishers.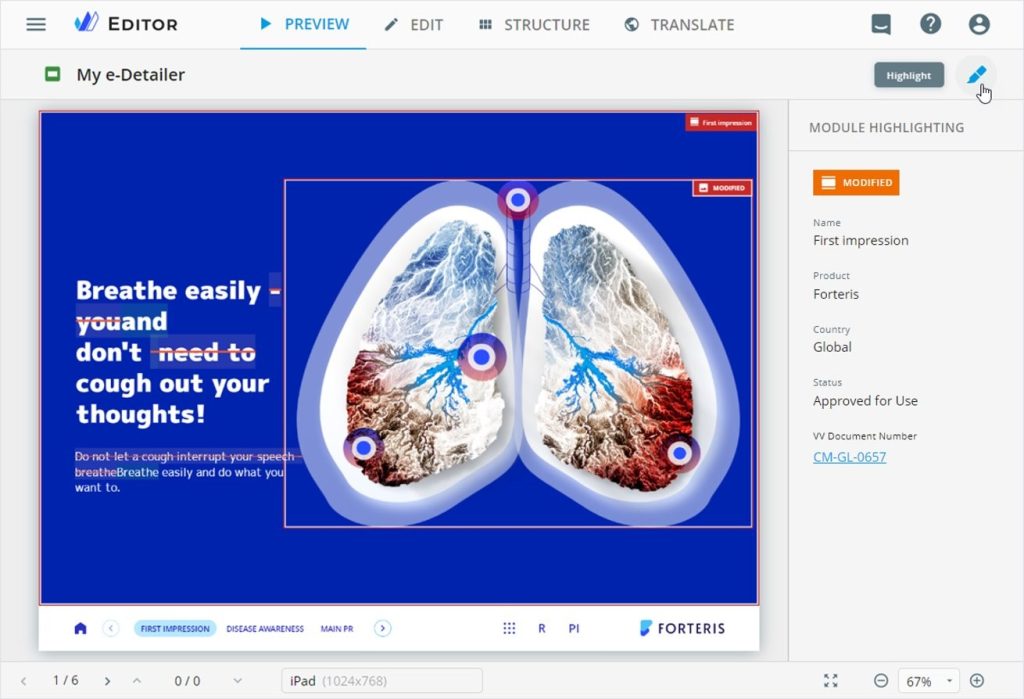 The Module Highlight feature in the Preview mode allows users to identify changes applied to modules.
Test the Functionality of eWizard for Free
Have questions about eWizard or need a professional consultation about creating personalized customer experience in pharma at a large scale? Don't hesitate to contact us, and our specialist will get back to you shortly with all the necessary information.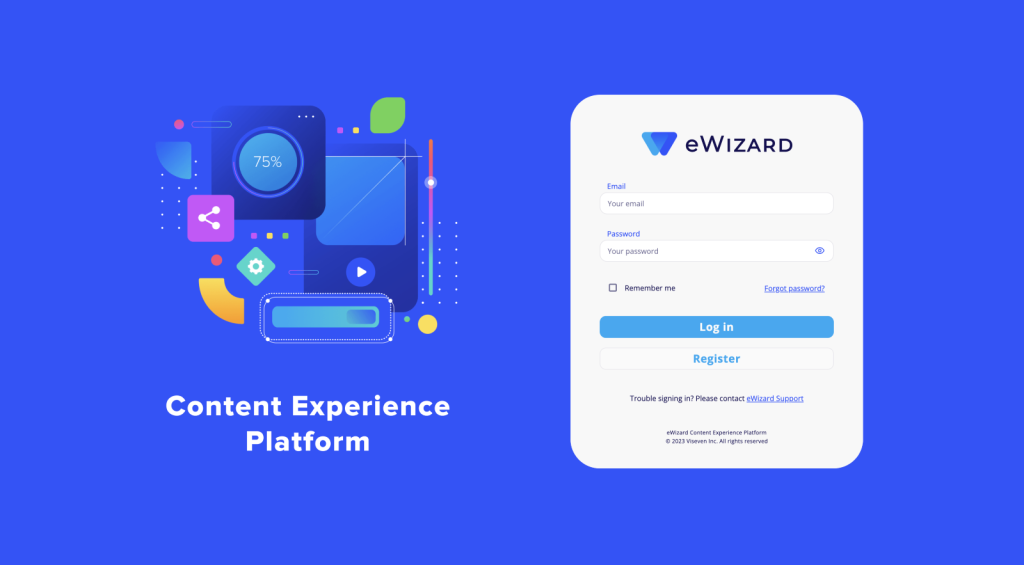 If your organization became interested in eWizard and wants to test its features and tools firsthand, remember that you can try the basic functionality of eWizard during a free trial period.